Ask a question
If you have a question, do not hesitate to ask. Developers, administrators and Client Support will promptly receive your question and also promptly try to answer it. If your question should not be visible to other users or is concerned with the need to conduct transactions on your account please use the Member Area.
If you are faced with a problem that can not wait - call us to the contact phone numbers.
Китай и Саудовская Аравия устроили распродажу гособлигаций США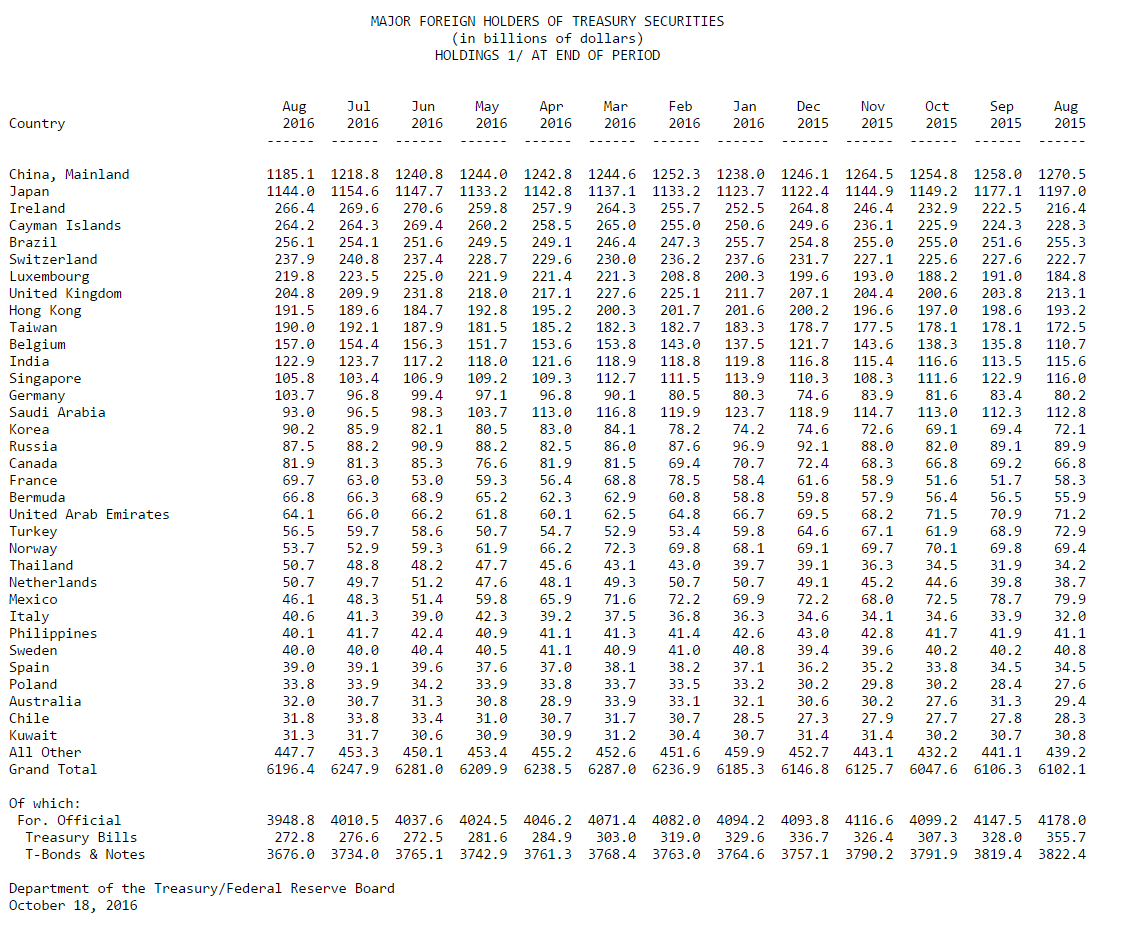 Мировые центробанки продолжают ликвидировать свои вложения в гособлигации США, причем темпы этой распродажи нарастают.
Как сообщил в ночь на среду по мск американский Минфин, в августе вложения официальных институтов в treasuries упали на 61,2 млрд долларов - рекордную величину за все время, покрываемое публично доступной статистикой (с 2000 года).
Суммарные вложения стран мира в американский госдолг опустились до минимальной отметки с июля 2012 года в 3,948 трлн долларов.
Крупнейшим продавцом стал Китай, сбросивший бумаг на 33,7 млрд долларов (рекорд с декабря 2013 года) и опустивший свои вложения до минимума с ноября 2012 года.
Япония сократила вложения на 10,6 млрд долларов, до 1,144 трлн долларов. Еще на 3,5 млрд долларов продала бумаг Саудовская Аравия, чьи инвестиции сократились до минимума с ноября 2014 года.
За 12 месяцев Пекин и Эр-Рияд стали главными продавцами: они вывели из американских бумаг 105,2 млрд долларов; остальные страны - 124 млрд долларов.
Россия уменьшила свои вложения на 0,7 млрд долларов за август и на 2,4 млрд долларов за год - до 87,5 млрд долларов (22% от резервов).
Судя по оперативным данным ФРС США, за распродажей в августе последовал еще более мощный сброс бумаг в сентябре и начале октября: объем treasuries на счетах суверенных зарубежных держателей в ФРБ Нью-Йорка за два месяца упал еще на 84 млрд долларов - до минимальной отметки за 4 года в 2,804 трлн долларов.
Мы наблюдаем распродажу "исторического масштаба", сказал СNN Money аналитик Lindsey Group Питер Буквар. По его словам, ничего подобного рынок госдолга США не видел с 1978 года.
Впрочем, признает Буквар, главные продавцы выводят деньги из treasuries не от хорошей жизни - Китай прожигает свои валютные резервы ради стабилизации юаня, а Саудовская Аравия - чтобы покрыть дефицит бюджета, дыра в котором достигает 16,7% ВВП.