Ask a question
If you have a question, do not hesitate to ask. Developers, administrators and Client Support will promptly receive your question and also promptly try to answer it. If your question should not be visible to other users or is concerned with the need to conduct transactions on your account please use the Member Area.
If you are faced with a problem that can not wait - call us to the contact phone numbers.
Итоги недели по операциям в портфеле (26.11.2018-30.11.2018)
Итак, друзья ,пока здесь https://tradernet.ru/feed/postId/1107051 продолжается наш еженедельный опрос на предмет движения рынков га основе которого вечером составим портфель на очередной период, подведем итоги по операциям в портфеле за неделю прошлую. Выдалась она для нас непростой и к сожалению убыточной. Да еще у меня вылетело из головы зафиксировать результат в пятницу, поэтому пришлось пересчитывать всё ручками по ценам закрытия вечерней сессии последнего рабочего дня. Напомню, что начинали мы неделю с суммы баланса в 1 063 500 рублей. На нее открыли следующие 4 позиции: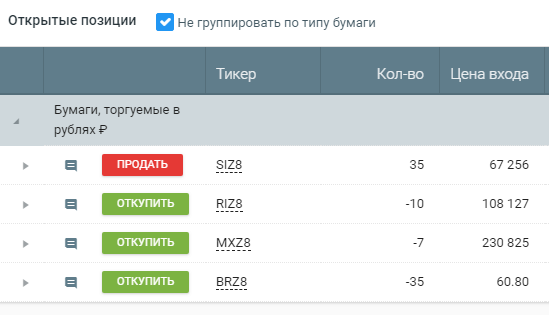 Настрой был везде весьма пессимистичный, что нас и подвело в итоге. Не попали в состав золото, по которому выбрали флэт, что в общем-то и случилось, и американский индекс - по нему был таки выбран лонг, который с лихвой удался бы, но выбор этот сделан был слишком поздно. На момент формирования портфеля там было равенство голосов. 
Закрывались частями. Первой ушла нефть по регламенту. Причем с двойным превышением. Хороший был в моменте провальчик, там и зафиксировали. Хотя она еще и ниже сходила потом. Это единственная плюсовая сделка. Остальные дали отрицательный результат. В индексах так и вовсе. В итоге портфель закрывали по следующим ценам:
1. Продажа 35 контрактов на пару рубль-доллар по цене 67107.
2. Покупка 10 контрактов на индекс РТС по цене 112 000.
3. Покупка 7 контрактов на индекс Мосбиржи по цене 238 625. 
4. Покупка 35 контрактов на нефть по цене 59,17.    
В итоге, после тщательного пересчета, портфель на конец недели составил приблизительно 980 500 рублей, что на 83 000 рублей меньше ,чем неделей ранее или на 7,8%.
Тот случай, когда отсутствие стопов по убыткам снова сыграло с нами плохую шутку. Портфель ушел ниже миллиона. Бывает, главное не отпускать дальше. Общая просадка около двух процентов.