Ask a question
If you have a question, do not hesitate to ask. Developers, administrators and Client Support will promptly receive your question and also promptly try to answer it. If your question should not be visible to other users or is concerned with the need to conduct transactions on your account please use the Member Area.
If you are faced with a problem that can not wait - call us to the contact phone numbers.
Итоги недели по операциям в портфеле (03.12.2018-07.12.2018)
Итак, друзья, пока здесь https://tradernet.ru/feed/postId/1107310 проходит наш традиционный опрос, по которому составим наш очередной портфель на неделю в вечернюю сессию, посмотрим, с чем закончили неделю предыдущую. Начинали мы ее с суммы баланса в 980 500 рублей, снова вернувшись ниже миллиона, к сожалению. И нужно было сильно не отпускать. К несчастью не удалось. Но обо всем по порядку. В портфеле у нас было в этот раз  4 следующие позиции: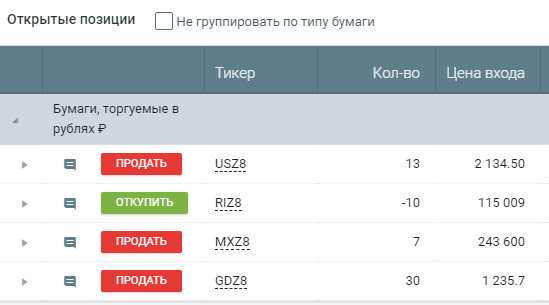 Как-то так вышло странно, что купили мы американский и индекс Мосбиржи, но при этом зашортили индекс РТС. Ну а в качестве дополнения еще золотишка прибрали. Не вошли в состав рубль, по которому выбрали флэт и были не далеки от истины, а также нефть по той же причине. 
Закрывались частями. Первым уел индекс РТС, шорт по которому достиг регламентной отметки довольно быстро. Далее также по регламенту закрывали и золото. Кстати, не так чато в нем мы получаем прибыль. А тут прям хорошо. А вот оставшиеся два индекса закрыть с прибылью было не суждено. И если индекс Мосбиржи дал нам не столь существенный убыток, то вот американский проехался катком. В итоге весь портфель был закрыт по следующим ценам:
1. Продажа 13 контрактов на американский индекс по цене 2017,50.
2. Покупка 10 контрактов на индекс РТС по цене 113 760.
3. Продажа 7 контрактов на индекс Мосбиржи по цене 241 350. 
4. Продажа 30 контрактов на золото по цене 1247,40.
Баланс на конец недели составил приблизительно 901 500 рублей, что на 79 000 рублей меньше, чем неделей ранее или на 8%.

Печально. Перед самыми праздниками растеряли прибыль и ушли в убыток снова. Общий результат почти минус 10%. Есть 2 недели чтобы поправить положение. Сможем же?