Ask a question
If you have a question, do not hesitate to ask. Developers, administrators and Client Support will promptly receive your question and also promptly try to answer it. If your question should not be visible to other users or is concerned with the need to conduct transactions on your account please use the Member Area.
If you are faced with a problem that can not wait - call us to the contact phone numbers.
Итоги недели по операциям в портфеле (10.12.2018-14.12.2018)
Итак, друзья, с отчетом чуть задержалась, но все равно не поздно, ибо наше голосование еще пол часа продолжается здесь  https://tradernet.ru/feed/postId/1107558 прежде чем мы сформируем новый, предпоследний портфель на неделю в уходящем году. Я, кстати, еще не проголосовала, но подтвердила свои намерения, глядя на текущий ход торгов. Но пока подведем итоги прошедшей недели по операциям в портфеле. Период мы начинали с суммы баланса в 901 500 рублей. На них открыли три следующие позиции: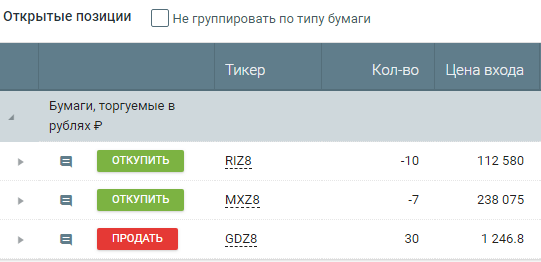 По нефти, индексу SnP и рублю кворума не набрали. Было равенство голосов. В итоге закрытие происходило, как это часто бывает поэтапно. Шорт двух наших индексов принес прибыль в этот раз в рамках регламента и их закрыли досрочно. Золото же снова не подарило радости и закрывали его в пятницу в вечерку. Убыток по нему есть, но не такой большой. Фиксация происходила по следующим ценам:
1. Покупка 10 контрактов на индекс РТС по цене 111 260.
2. Покупка 7 контрактов на индекс Мосбиржи по цене 235 625.
3. Продажа 30 контрактов на золото по цене 1239,5. 
В итоге, баланс на конец недели составил 921 500 рублей, что ровно на 20000 рублей больше, чем неделей ранее или на 2,22%.  

Небольшая прибыль. И у нас ровно две недели, чтобы закрыть год более-менее красиво. Хотя бы в ноле. Для этого нужно еще порядка восьми процентов. Именно на столько сейчас портфель в просадке в общем. В принципе по силам.