Ask a question
If you have a question, do not hesitate to ask. Developers, administrators and Client Support will promptly receive your question and also promptly try to answer it. If your question should not be visible to other users or is concerned with the need to conduct transactions on your account please use the Member Area.
If you are faced with a problem that can not wait - call us to the contact phone numbers.
Акции Лукойл - Прогноз на 2019 год
Весь 2018 год акции Лукойла поддерживал рост цен на нефть, ослабление рубля и обратный выкуп акций с рынка в размере около 1 млрд. дол. Сейчас же после коррекции черного золота, акции Лукойла выглядят переоцененными. На мой взгляд, дальнейшее падение цен на нефть и мировых фондовых рынков спровоцирует коррекцию акций Лукойла на 50% от всего 10-летнего роста с 2009 года. Падение котировок в течении 2019-2020-2021 года может достигнуть отметок 3000 руб. за акцию. Не исключаю кратковременное обновление максимумов на фоне отскока по нефти, но затем все равно акция обвалится на 3000. После чего начнется новый цикл роста акций. Текущая дивидендная доходность составляет 4,7%, что не очень привлекательно для инвесторов.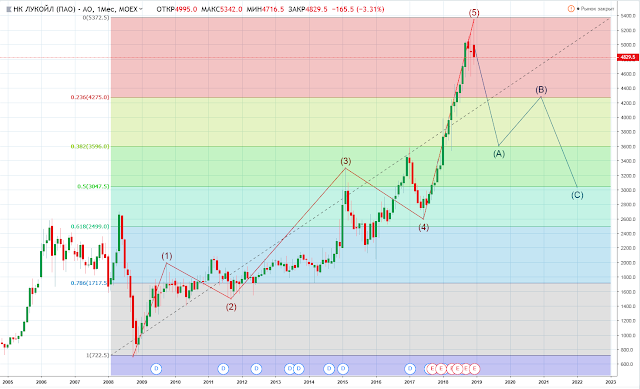 Фундаментальные показатели Лукойла:
Капитализация - 3622 млрд. руб.
Выручка - 7655 млрд. руб.
EBITDA - 1060 млрд. руб.
Прибыль - 582,4 млрд. руб.
P/E - 6,2
P/S - 0,5
P/BV - 0,9
EV/EBITDA - 3,6
Дивидендная доходность - 4,7%
Дивиденд ао - 225 руб.