Ask a question
If you have a question, do not hesitate to ask. Developers, administrators and Client Support will promptly receive your question and also promptly try to answer it. If your question should not be visible to other users or is concerned with the need to conduct transactions on your account please use the Member Area.
If you are faced with a problem that can not wait - call us to the contact phone numbers.
Работает ли эффект инсайдеров и байбеков?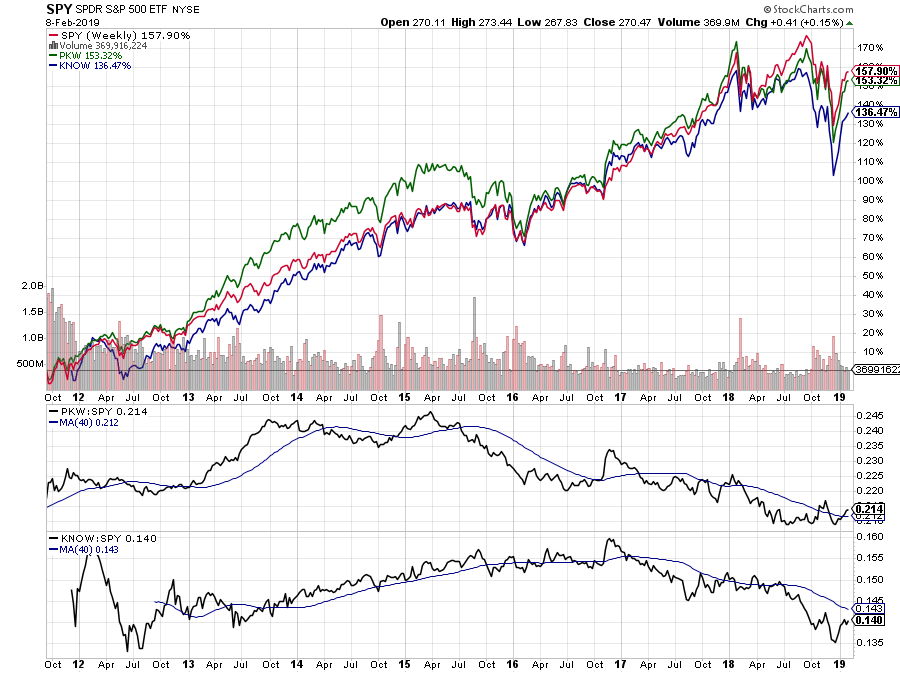 Идея покупать акции, которые активно покупают инсайдеры и выкупают сами компании, звучит не плохо. Но насколько она оправданна исторически ? Давайте проверим.
Для этого построим недельный график доходностей трех фондов: SPY – красный, PKW – зеленый, KNOW – синий за 7-летний период. Последние два – это факторные ETF-фонды.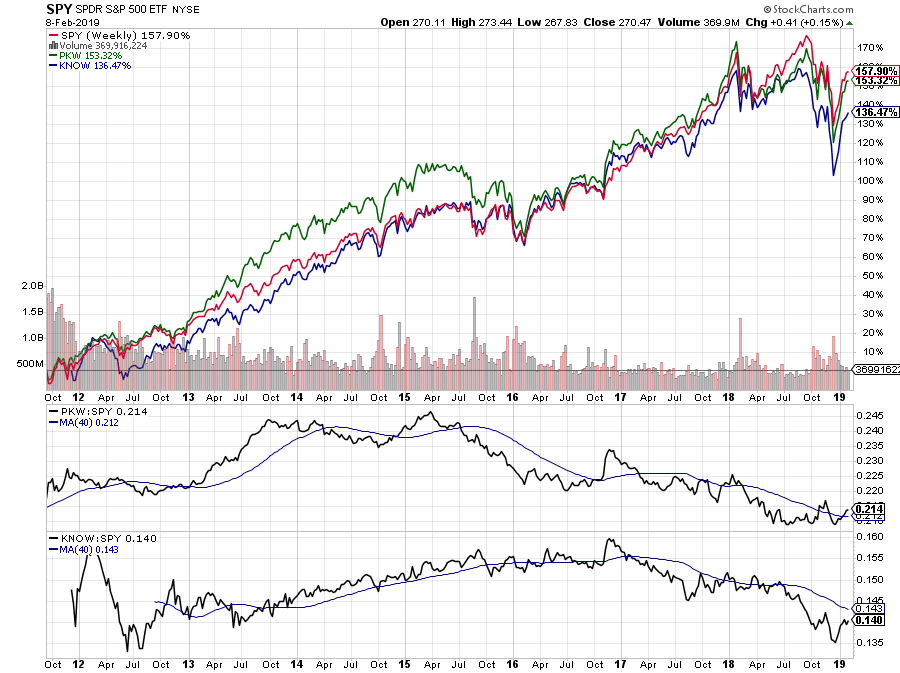 Сравнение доходностей фондов:
1.SPY – фонд на индекс акций крунейших американских компаний S&P 500.
2.KNOW – Direxion All Cap Insider Sentiment Shares ETF 2011 года выпуска (поэтому и график с 2012 года). Данный ETF включает в себя акции компаний из S&P 500, S&P MidCap 400, S&P SmallCap 600 и S&P1500, более 5% которых принадлежат инсайдерам – владельцам и руководителям компаний.
3.PKW – Invesco BuyBack Achievers ETF (PKW) 2006 года выпуска. Фонд включает в себя акции компаний крупной капитализации на основе динамики байбеков.
Как видно, на отрезке 7-лет покупка на основе действий инсайдеров или выкупа акций не позволила бы нам опередить широкий рынок акций США. При этом были периоды, когда данные фонды давали возврат лучше SPY. Но что интересно: данные фонды начали сильно отставать от широкого рынка в последние 3 года. Это видно в двух нижних окнах, оценивающих относительную силу фондов к широкому рынку. Допускаю, виной тому – рост алгоритмов. А как считаете вы? Напишите в комментариях ниже.
Оксана Гафаити,
автор MindSpace.ru и Trades.MindSpace.ru
Понравился👍 пост? Оставьте свой комментарий ниже👇.
Получайте мои идеи по рынку в Telegram📣: @Mindspace_ru