Ask a question
If you have a question, do not hesitate to ask. Developers, administrators and Client Support will promptly receive your question and also promptly try to answer it. If your question should not be visible to other users or is concerned with the need to conduct transactions on your account please use the Member Area.
If you are faced with a problem that can not wait - call us to the contact phone numbers.
Клуб Вангователей версия 2.0. Подводим итоги дебютной недели
Приветствую, друзья! Ну что, вот и прошла первая неделя нашего возрожденного из пепла Клуба Вангователей. По итогами опроса был собран наш общий портфель и давайте посмотрим, какие итоги у нас получились.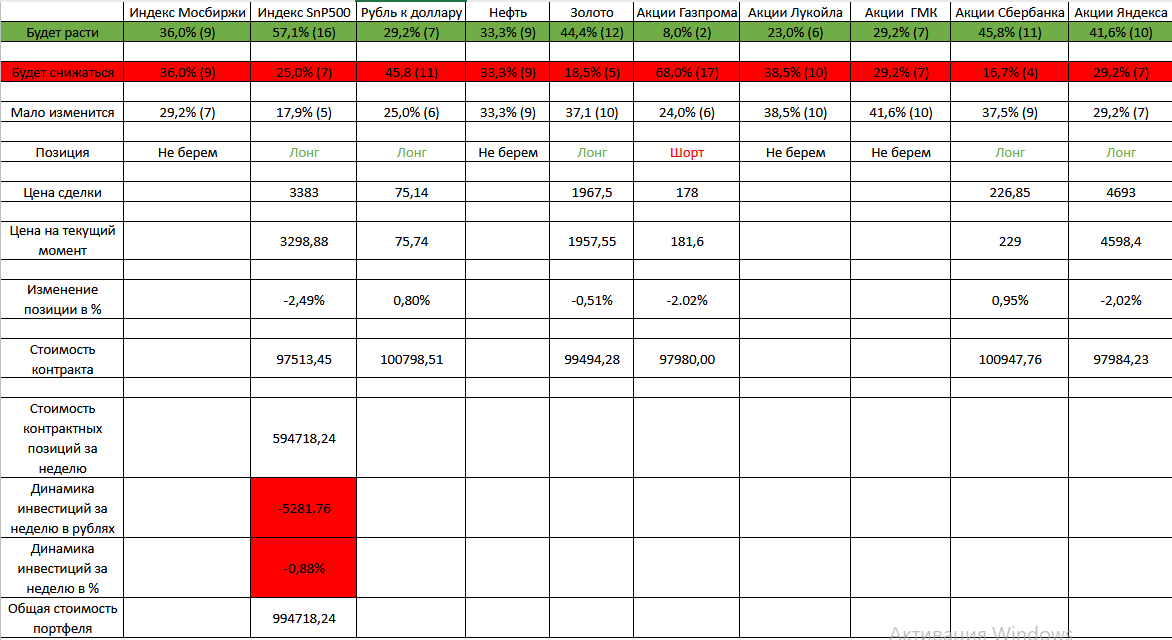 Как видите, на прошлой неделе наш коллективный разум явно не блистал в прогнозах. Из 6 открытых позиций (а они, я напомню открывались каждая на сумму 100 000 руб.), только 2 оказались в плюсе, да и то, мягко говоря, совсем небольшом. Ослабление рубля и рост Сбера и в правду хорошо прогнозировался. Зато по 3 позициям мы хапанули по минус 2-2,5%. Особенно, конечно подвел Газпром, т.к. по нему как раз было практически единодушие за позицию шорт, а он вон какие фортели выкидывает, даже вырос, несмотря неопределенность с достройкой "Северного потока-2" и возможным новым пакетом санкций. Американские рынки просели на неделе, хотя подавляющее большинство респондентов в нашем опросе прогнозировали им стабильный рост. Продолжительное ралли Яндекса, похоже, действительно закончилось, но бОльшая часть наших экспертов не смогла это сванговать. Золото на неделе двигалось в достаточно узком диапазоне, и закрыло ее в небольшом минусе.
Итого на выходе мы имеем за неделю убыток в 5281,76 руб или 0,88% от вложений. Что ж, надеюсь на этой неделе попаданий в "яблочко" у нас будет гораздо больше!
Теперь к более приятным итогам. Награждению победителей. Несмотря на, в целом, неудачную в прогнозах неделю у нас были те, кто отличились. 4 правильно угаданных результата из 10 вышло у едва ли не трети от всех, кто поучаствовал в опросах. Но вот двоим экспертам удалось правильно угадать чуть больше исходов. Итак, главными Вангами прошедшей недели объявляются @Гоша и @Кайрат с 5 верными прогнозами из 10! Держите ваш заслуженный кубок, почет и уважение (может где-то даже и зависть) вам от нас всех! :)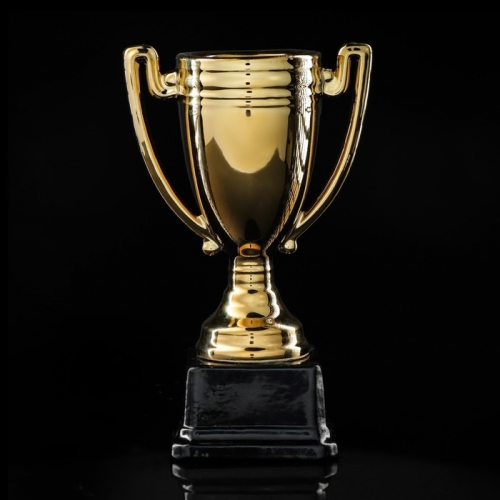 Сегодня здесь же чуть позже будет выложен новый опрос с вариантами для вангования на этой неделе. Будем собирать новый портфель. Как говорят на федеральных ТВ-каналах: "Не переключайтесь!".
Успехов всем нам! И Make Клуб Вангователей Great Again!